Large View of the Harbour and Town of Bordeaux 1758 - with numerous persons in the foreground and numerous sailing ships in the harbour - Engraving on paper, 52 by 74 cm (20 1/2 by 29 inch), with frame 74 x 94 cm (29 by 37 inch) - extensively inscribed with title (see below) - light tanning and age signs, one repair, otherwise ok - 19th Century lemon gilt frame (bumped in places), under glass - price (ex-Hamburg): EUR 480 (no shipping)

Note: After a painting by Vernet from the series of Harbour Views of France (in 1753 the Marquis de Marigny suggested King Louis XV to commission a number of Harbour Views from the most important French Ports, these were executed by Vernet in the following years). The full inscription reads as following: "Vue de la Ville et du Port de Bordeaux - Prise du Cote des Salinieres - grave d`apres le Tableau Original appartenant au Roy et faisant partie de la Collection des Ports de France ... peint par J. Vernet" - Photo Copyright is with the FineArtEmporium

Joseph Claude Vernet
(French, 1714-1789)
Presented by the FineArtEmporium in Hamburg.
Provenance: Private Collection in Hamburg, Germany
attributed to Jens Iversen
(1788-1855)
-
Portrait of the Pirate Ship "Juliane Sophie" chased by a Royal Navy Ship 1809 - Photo Copyright is with the Fineartemporium - Go back to our
For Sale Category
Following are shown some more photos of the painting: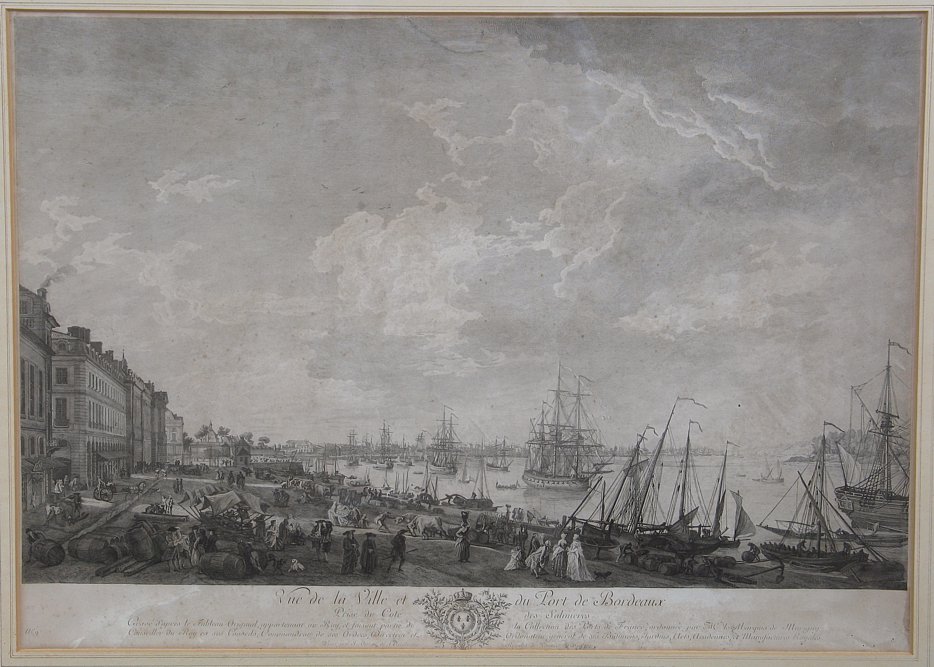 *
and some detail photos: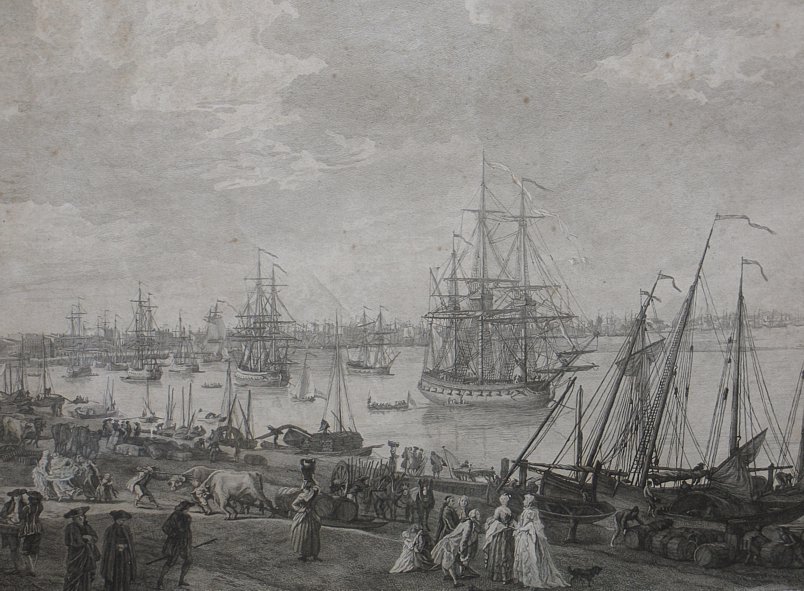 *
The port views done by Vernet for the King Louis XV were showing the Harbours of Marseille, Toulon, Bandols, Cette, Antibes and Bordeaux. They rang among the most important French Paintings of the 18th Century. They were reproduced in such large engravings for the households and offices of wealthy French people and for the offices of Companies - and in smaller versions for the general public who could afford it. Engravings were in the 18th Century much more expensive and printed in a smaller number of copies than in the 19th Century plus several did not survive the last 200+ years in such a state of condition and are comes on the market housed in a valuable old frame.
This offer is available for Europe and for collection here in Reinbek near Hamburg only (no shipping)
Any questions are welcome, please send your e-mail to: bais(at)gmx.de - This description has been written by Mr. Karsten Buchholz. We are also available on the phone, from Europe please dial 0049-4104-694710 or from Germany 04104-694710. As always, this offer is subject to prior sale.