| | | |
| --- | --- | --- |
| | Art Gallery of Old Ship Portraits and Marine Paintings | |
Ship Portrait of the Scotish Barque *Fifeshire* sailing to Australia, ca. 1895 - a pair of paintings - the vessel is shown one time under full sail at moderate sea and one time under reduced sails - Oil on artist`s board, each 46 by 63 cm (18 by 24 1/2 inch), with frame 57 x 74 cm (22 1/2 by 29 inch) - inscribed on the bow with the ship`s name, both signed by "Adelaide Photo Co. Sydney, NSW - good condition - Private Collection, Memphis (TN), USA

Note: One painting also with monogram "B" for Borstel.

R.A. Borstel
(Australian, 1875-1922)

* Photo Copyright is with the FineArtEmporium *

Second painting of the pair.
Presented by the FineArtEmporium in Hamburg.
Reginald Arthur Borstel
(1875-1922)
-
Portrait of the barque "Fifeshire" in the Pacific Ocean - Go back to the page for
R.A. Borstel
or to the
Gallery
- Photo Copyright


Following are shown several more photos of the paintings: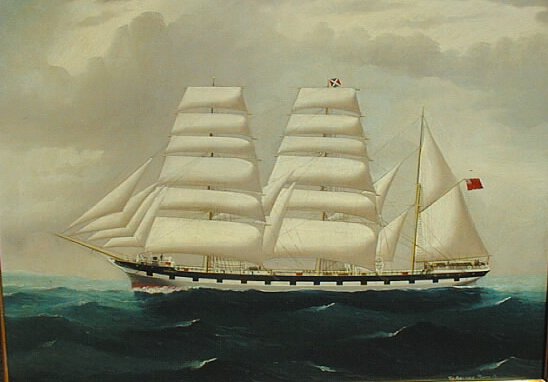 *
*
*
Please note, that the period frame have signs of age and are bumped at places on the back (ok from the front). The Barque "Fifeshire" was built in 1885 in Glasgow and sailed for the shipping company T. Law & Co. from Glasgow, the blue/red/cross house flag of T. Law is displayed on the main mast of one of the paintings. This is one of the fine Scotish-built vessels, who was known for their quality all over the world. The Fifeshire was apparently one of the so called "Woolclippers", large Windjammer sailing barques and ships who was on the route to Australia more economic than the steamers.
To have a pair of paintings from the same vessel is rare and such pairs are sought after by collectors. Last but not least these are well executed examples from the earlier period of this artist (when he lived in Sydney), his later works (when he moved to Newcastle) are often less exact in the execution.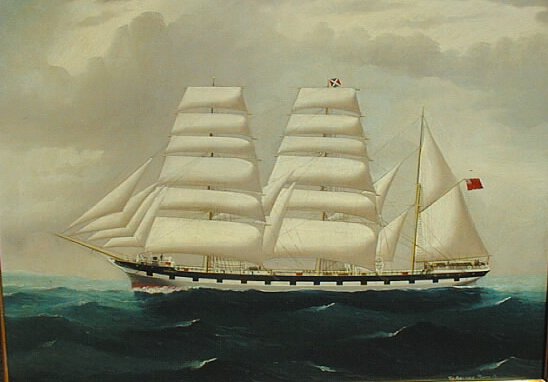 ---