Quick Facts: Silver Purity: Sterling, 925/1000 - Purpose: a round bowl with 12 segments and of Classic form with well-balanced proportions (similar to some Empire / Regency pieces around 1800) - suitable to present small Sweets, to fill with Potpourri or Rose Leaves (as it is often done in England) - or also suitable as a large sugar bowl - Dimensions & Execution: the diameter is 12,3 cm or 5 inch and it stands 10 cm or 4 inch high - made of solid silver with a weight of 135 gr. (4.34 Ounces), not weighted and without engraving, executed in a Traditional Design - Maker & Age: made by the famous Silversmiths Mappin & Webb in their Birmingham workshop in 1928 - Condition: light dents in the lower part of the bowl, light wear from age and use, otherwise good condition - Assay Marks: Lion Passant (for Sterling Silver), Anchor sign (for Birmingham), Date Letter D (for 1928), Maker`s mark M & W for Mappin & Webb - all hallmarks are clearly visible - Price (incl. shipment): see table below (convert to your Currency) - refer to Mappin Bowl I

Mappin & Webb was founded 1774 by Jonathan Mappin and is commonly seen as the best known Silversmith from the UK - and they are still in business today with silverware of high quality and craftmanship. Mappin & Webb is silversmith to Her Majesty Queen Elizabeth II and to His Royal Highness Prince Charles.

Footed Sterling Silver Bowl
Mappin & Webb, 1928

A Vintage Sterling Bowl of quality with many possible purposes * offered subject to prior sale by: Karsten Buchholz KG Hamburg, Germany *
| | | |
| --- | --- | --- |
| Price: USA and World (incl. Shipment - * to combine) | Europe (including airmail shipment) | Germany - Deutschland |
| EUR 220 = ca. US$ (convert to your Currency) | no shipment, only collection in Hamburg | nur auf Anfrage |
Please note that our Price is All Inclusive (Packing, Shipment and Transit Insurance). The Payment is accepted by VISA or M/C credit card or bank transfer. Any questions are welcome.
Presented by the FineArtEmporium in Hamburg.
Following are shown some more photos: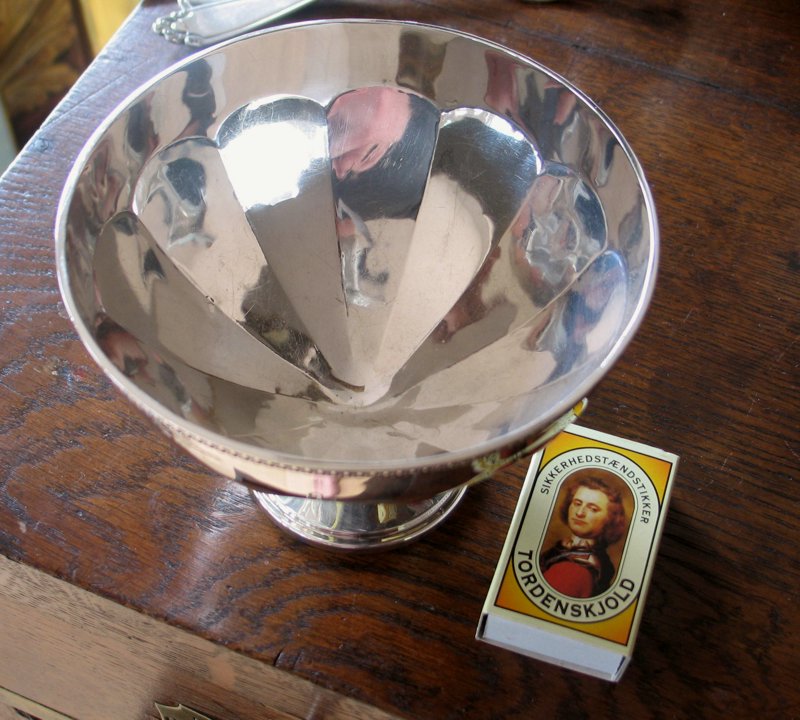 *
This item can well be be combined with other Vintage Silverware from our offers, see our current offers here. Glasses, Flowers and other Decoration is not included in the offer.
Further information: See here the Mappin & Webb history and range of products today: Mappin & Webb homepage (a piece like this bowl is not anymore in the range)
All trademarks are owned by the companies mentioned.
Any questions are welcome, please send your e-mail to: bais(at)gmx.de - This description has been written by Mr. Karsten Buchholz. We are also available at the phone from Europe 0049-4104-694710 or from Germany at 04104-694710. As always, this offer is subject to prior sale.
In German: Runde Sterling (925er) Silber Schale mit Fuss von Mappin & Webb, 1928 im klassischen Design und mit guten Proportionen. Durchmesser 12,3 cm und Höhe 10 cm, Gewicht 135 Gramm, nicht gefüllt und nicht graviert. Mit kleinen Dellen im unteren Bereich der Schale sowie Altersspuren, sonst guter Zustand. Punziert mit Lion Passant (für Sterling Silber), Anker (für Birmingham), Jahreszahl D (für 1928) und Herstellerzeichen. Verkauf in Deutschland nur gewerblich - an Unternehmer, Freiberufler und Händler. Bei Fragen bitte Email oder anrufen (Tel. 04104-694710).