Antique and hand engraved Sterling Silver Teapot by Gorham Co., made in 1910 - classic form with feet, inspired by ancien Roman / Greek designs and showing a boat shaped form, with handmade engravings in a typical Art Noveau pattern and with silver handle - signed at bottom with Sterling and Gorham marks, a sign for the content (1 3/8 Pint = 0,65 Liter) and a date sign - 26 x 15 x 12 cm and weights 457 gr. (= 14.7 troy oz.) - good condition (minor bump at handle), complete with all original parts - Export Price (incl. s&h): EUR 980 (convert to US$, Pounds or Swiss Francs)

In German: gravierte Sterling Silber (925) Teekanne von Gorham USA, 1910 - Länge 26 cm, Höhe 12 cm Breite 15 cm, für 650 ml - guter Zustand

Note: The design of this item has been introduced by Gorham in 1895 and is called Plymouth. It was produced a long time due to its Classic Elegance. This piece has been cleaned and is ready for use at your home, your office or on your yacht to serve a good Tea.

Sterling Silver Teapot by Gorham Co. (American, founded 1831)

* Special offer for Premium Silver Lovers * offered subject to prior sale *
Antique Sterling Silver Teapot by Gorham Co. 1910 - with hand made engravings - 26 cm long - 650 ml Content
Presented by the FineArtEmporium in Hamburg.
Gorham Co. from Rhode Island was the leading Sterling Silver Flatware and Hollowware manufacturer in Northern America. Along with Tiffany of New York the silversmiths of Gorham showed a very high standard of quality and execution, also when already mass-production was en vogue otherwise in early 20th Century America. Generations of American Presidents uses Gorham Silver in the White House and in fact this piece comes from the estate of an Ambassador in Berlin, who served in Washington at the beginning of the century under the presidents Theodore Roosevelt and William H. Taft. Otherwise Gorham Silver was often in use at the High Society in New England and New York, especially at the old families with a European sense for classic design, workmanship and quality. The Trophies of the America`s Cup, the Indianapolis Races and other prestigious events were supplied by Gorham.
Here are some other views of the item:
*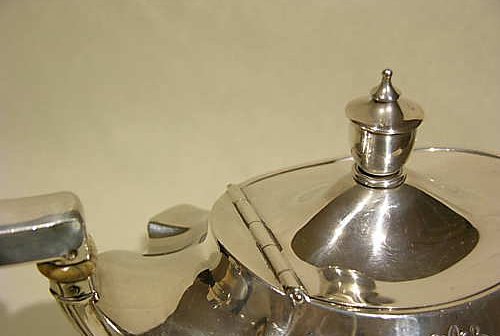 *
*
*
Kontakt per Email: bais(at)gmx.de - oder Telefon (aus Deutschland) 04104-694710 oder aus Europa 0049-4104-694710. Falls Sie uns besuchen möchten, wir sitzen in Reinbek bei Hamburg, Sie können uns verkehrgünstig über die A1 (aus Norden, Süden oder Westen) bzw. über die A 24 aus Richtung Berlin erreichen. Zwischenverkauf ist wie immer vorbehalten.