View of a Tuscan Landscape near Volterra with a Monastery or Church on a hill top 1905 - shown at Sunset, early evening in Summer - with romantic light effects and the typical features of a landscape in the Tuscany (olive trees, cypresses, hills, low stone walls, small path ways, antique buildings) - Oil on canvas, original stretcher, 71 by 77 cm (28 by 30 inch), with frame 84 x 90 cm (33 by 35 1/2 inch) - signed lower right "Arvid Aae, Volterra" and dated 1905 - cleaned, minimal area with retouch only, in good condition and in the original frame - Price (ex Hamburg): EUR 2680 (convert to your currency)

Note: Arvid Aae has been trained at G. Vermehrens Art School and afterwards at the Royal Academy in Copenhagen (which was the leading Art Academy in Scandinavia in the 19th C.). Many of his paintings - which he exhibited at Castle Charlottenborg - were Portraits or Genre, but in 1905 until 1906 he made a travel to Paris and Italy and came back with several landscapes. His total output was unfortunately limited due to his early death in 1913. He is represented in the Koldingshus Museum and several private collections. In general his fine paintings are comparable rare to find, especially the paintings he made during his travels in Italy and France. Photo Copyright is with the FineArtEmporium.

Arvid Aae
(Swedish, 1877-1913)

only available for delivery in Europe * offered subject to prior sale by: Karsten Buchholz KG, Germany *
Presented by the FineArtEmporium in Hamburg.
Arvid Aae
(Swedish, 1877-1913)
-
View of a Tuscan Landscape near
Volterra
with a Monastery on a hill top 1905 -
Photo Copyright is with the Fineartemporium - Go back to our
For Sale Category
Following are shown some more photos of the painting: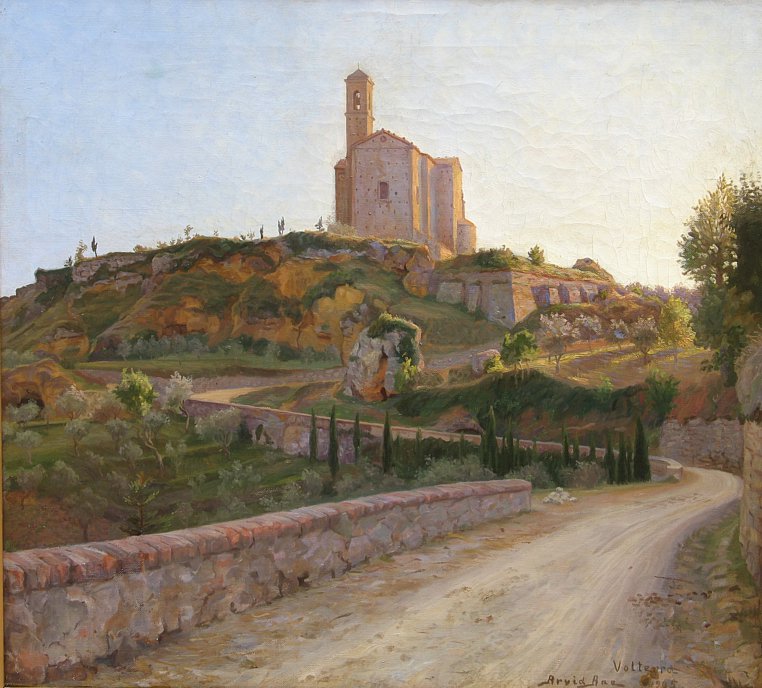 *
and detail photos:
*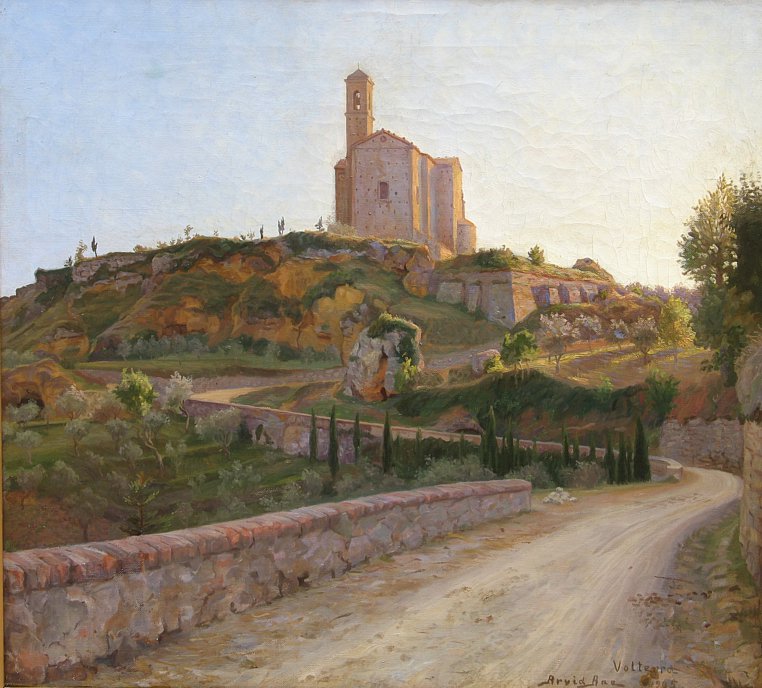 The artist painted this Volterra Landscape from his own experience, doing a sketch plein-air and executing the painting afterwards. We think this painting is one of the best works he has ever done. Photos have been taken outside in sunlight - the indoor appearance (depending on the illumination) might be darker. This impressive painting is large enough to hang as a centre piece in a living room.
This offer may include delivery in the Middle of the Europe and Southern Scandinavia (depends on your location, please inquire). This offer is valid for Europe only (other countries on request). Payment is possible by bank transfer or when delivered.
Any questions are welcome, please send your e-mail to: bais(at)gmx.de - This description has been written by Mr. Karsten Buchholz. We are also available at the phone from Europe 0049-4104-694710 oder aus Deutschland 04104-694710. Please note that an order can only be placed by email to avoid mistakes with the address. Collection and COD payment is also possible. As always, this offer is subject to prior sale.
Suchworte / Search words: Italy, Italian, topgraphical view, art, paintings, landscape, for sale